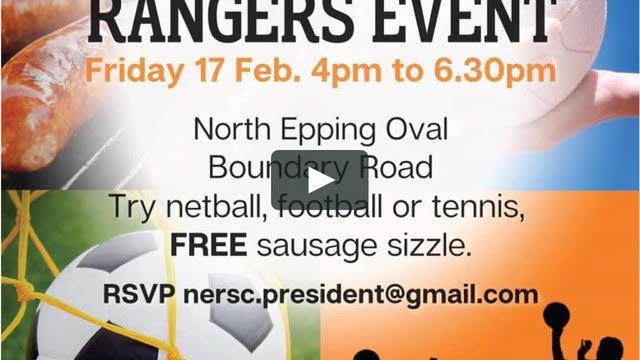 Click on the picture to check out the
video of Welcome to Rangers Day
---
Registrations are now OPEN
---
Active Kids Voucher
The Active Kids Program $100 Voucher is still available for school aged children.
Players will receive a $100 voucher to use as a discount for playing an active sport. The voucher can be used for Soccer or Netball. The program applies to School Age Children from Kindergarten to Year 12. Parents will need to log into the Service NSW Website and apply for your $100 Voucher Code. Click
Here
to get your Active Kids Voucher. This code is then entered into the registration system before you complete your registration. Upon entry of a valid code, the system will automatically deduct $100 off the registration fee.
Netball Registration Winter Comp
Registrations for Winter Netball Open from January 21 to February 5.
NER welcomes all players from the age of 6 through to seniors. We participate in the Eastwood Ryde Netball Association (ERNA) competition with games played on Saturdays either at Meadowbank Park or Brush Farm Park.
Netball Registration
Football Registration
Registrations Open in the first week of January.
Register early to be sure to receive all the pre-season emails and grading information. Teams will generally be formed in late February, and training starts in early March.
Women's Football
NER have a goal to increase the participation of women in football.
From 5 year olds to the mother's and grandmother's of those young girls. We are already one of the largest girls/women participation clubs in NWSF. We have many girls playing on Saturdays in the mixed competition, ladies of all ages playing on Sunday in the women's only competition, and many of the younger ones that play on both Saturday and Sunday. We have teams from U6 right through to Over 40, including a team playing in the Women's Premier League. If you and/or your daughter are interested in playing you can use the links in the Football Registration column to get further information